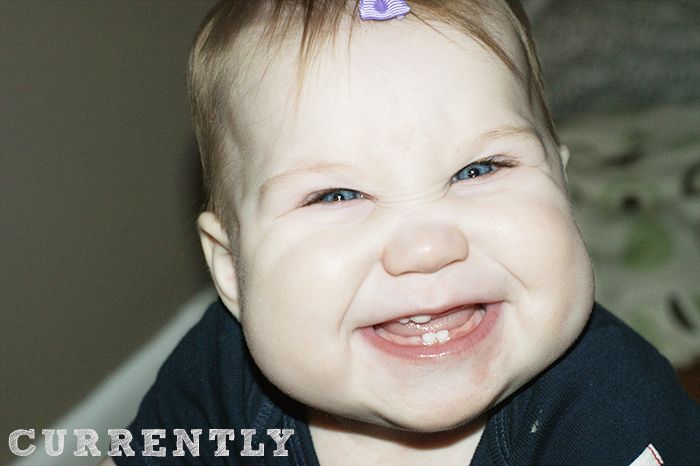 I understand if you don't want to read anything I have to say - because all you want to do is look at that adorable baby grin. I know - I get it - it's killer. It melts my heart Every.Single.Day!! Eila has been flashing her best grins for the past few weeks - and I might think it's the greatest thing ever. Want to know what else has been going on? Well you are in luck....
Eila has been currently
dropping
EVERYTHING on the floor. She's in that infamous stage where she (and only she) thinks it's hilarious to drop things from her high chair so mom or dad will pick it up. And then repeat x 1000. This also means that her meals mostly end up on the floor. It might be the only time in my life when I wish I had a dog to clean up after dinner.
We are currently
making
plans for Eila's first birthday. Which is approaching way to quickly. We have decided on date and venue for her party - but I am still thinking about what we'll do on her actual birthday. I start back to work that week - but both Steve and I have booked off the day so we can do some family celebrating. I am leaning towards a first zoo visit to check out the moose - since we have a camping trip booked for a few weeks later and we will surely go on a
Moose Hunt
.
Eila is currently
wearing
size 12-18 month clothing. I don't know how it happened - but one day she was just humongous. I stupidly bought a ton of 12-18 month clothes thinking it would take her through most of the summer. It looks like Eila will be getting a new mid-summer wardrobe come June/July. As for me, I am currently no longer
wearing
socks. As soon as the temperatures go above zero - I toss the boots and socks and pull out my Toms.
Eila is currently
kissing
everyone and everything. It's her favourite thing to do, well besides flashing huge grins. Her kisses are big and opened mouthed - but they are the sweetest thing ever. Today she was looking at Basil and then kissed him on the nose. I didn't get to see it - but Steve told me about it and my heart melted. There is a lot of heart melting going on over here these days.
I am currently
keeping
all of Eila's outgrown clothes. I just can't bring myself to get rid of them and/or pack them up. They are just sitting in a bag in her room. And the pile keeps growing and growing. I really need to just buckle down and sort through what I want to keep and what can go.
what are you currently up to?
Link up
here
.