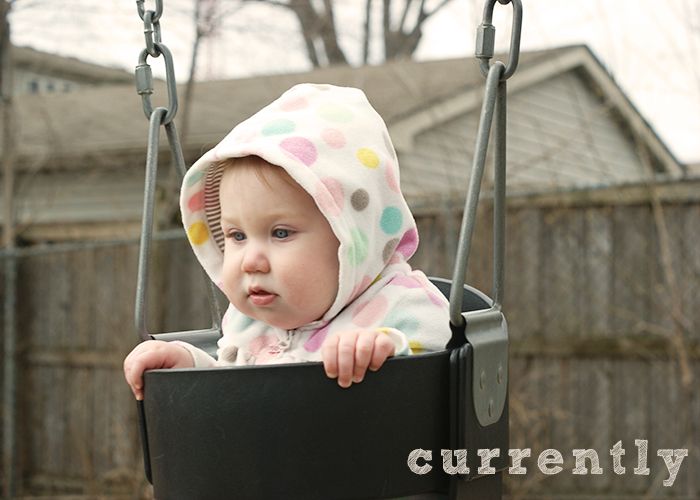 The weather last Sunday was pretty great! Well at least the sun was shining and it was warm enough to go out without a jacket on. And then the past two days have been so rainy and dreary, but I am looking out my window right now and it looks like the sun is trying to bust out and I think it's going to turn into a pretty nice day . This is great because Eila and I desperately need to get out and go for a walk - and I am out of coffee (this might be my MO for wanting to go out - but whatever gets us out of the house).
Besides my regular update on the weather - this is what else has being going on here.
I haven't been
buying
much of anything - or at least I am trying really hard to not buy anything. With daycare looming - our budget is going to take a serious hit until I get established back at work. But wow daycare is expensive. I have no idea how we'd ever swing it if we decided to have another child. I totally understand the three year gap.
With Eila's new walking skills Steve and I have been
snapping
pictures and taking videos of all her progress. Just today she made it all the way from the sofa to our nursing chair. The distance isn't far - but when you are just over 2 feet tall - it's a huge accomplishment. As soon as she made it to the chair - she must have felt proud and started clapping like crazy. Way to go girl!!! We are insanely proud of her determination and willingness to learn.
Eila and I have been
scoring
free hotel stays. Okay it was for one night. Steve had an out of town conference to attend last weekend in Niagara-on-the-Lake so I promptly told him that Eila and I would join him since one of my favourite things is staying in hotels. It was Eila's first hotel stay - and I think it blew her mind. The first ten minutes in the room - she chatted away while she explored - and then she found the bathroom and promptly ripped up the toilet paper roll. She's a party animal. The best thing is that all the excitement caused her to crash for the night at 5:30 p.m. so sadly we missed out on an evening swim - however I got into a white robe and watched TV, somewhere other than our living room. It was awesome.
Steve and I are
struggling
with what we want to do in the future. This week we've started talking about living and working abroad again. We are dreamers - and our wanderlust is strong. However the thought of moving and living abroad with a toddler terrifies me - but what an awesome experience it would be for Eila!!
I am very quickly
losing
my baby as she transforms into a tiny toddler. The fact that she can just stand on her own - without any help - and then walk towards me blows my effin' mind. How did this happen so fast? She's only 10 months old!!! However the last two days she's been extra affectionate and snugly. The same thing happened when she started crawling - maybe this new found Independence makes her need the extra reassurance from mama - whatever it is - I'll take it because she is 100% not a snugly baby.
...want to share what you've been up to? Do that here.