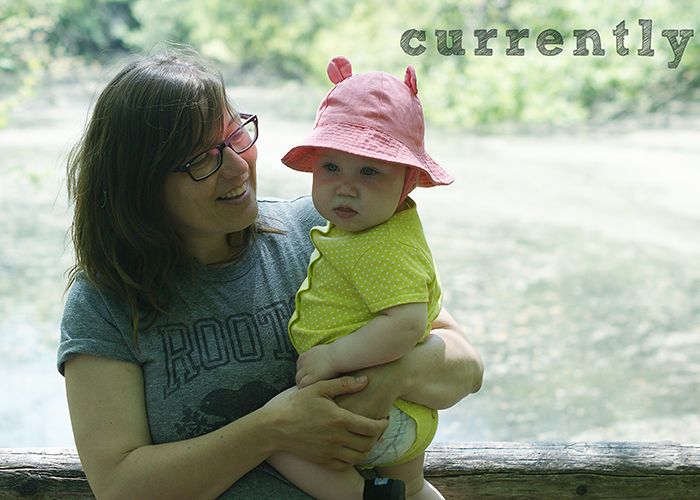 Oh hey blog! It's been quite the week. It's the week I have dreaded since we got pregnant and came to the conclusion that we will one day have to place our child into the care of someone just so we can make a living. We are on day four of transition - and I hope to find a free moment tomorrow to share our week one experience with you. Until then - this is what else the Hope family has been up to.
I have been
snapping
photos of Eila as much as I can because I realized not too long ago that she will be one before I know it. More and more these days I am seeing less of a baby and more of an emerging toddler. It blows my mind that I have literally watched her grow into this high energy, sweet and independent little girl. Everyday with her just gets better and she just keeps getting cuter - but there is something so special about the first year - that I need to capture all the memories.
I have been
checking
the time a lot this week. This week started a whole new routine for us. We now wake up a lot earlier (this is huge for our lazy family). Since we are practicing I constantly am waking up and checking the time on my phone. It's so annoying - but I want to make sure we get into this new groove before I head back to work. And then again, after I drop Eila off at daycare, I leave the room and then I am constantly checking my phone to see how long I've been gone for. I am so tired of wondering what time it is - I want to go back to the newborn days when I didn't even care what day it was.
Eila is
learning
how to point. She is pointing at everything. It is terribly adorable. It also has made things a lot easier when figuring out what she wants. Oh I should also let you know that Eila is also
learning
how to show us when she dislikes something - or when she is mad at us. She does a full on stamping of her feet and yells at us. So much sass for such a little girl.
I have been
dropping
my morning and afternoon naps. This is also part of our new routine and quite frankly it sucks. I am tired man. How am I going to get through an 8 hour work day without at least two naps? And Eila - well Eila has been
dropping
all her food on the floor. The whole eating solid food thing is such a crap shoot. One day she shovels in all the food and the next she's tossing it all on the floor. One day she loves strawberries the next they are just mediocre and then the next day they are poison. Everything except cheese. Kid loves cheese. Her bowels? Not so much. Bring on the cheese and prune juice.
We have been
saving
all our pennies (well at least trying to). June is a bad month for us. With the start of daycare fees, the transition of maternity leave pay to work pay, and a first birthday party to plan and pay for - we are broke! We've been extra cautious on what we are spending our money on - but it's hard. It'll be nice once I am back to work and we can work out a proper budget again. But shit - did I ever mention how costly daycare is?
What has been going on with you?
Link up here
(if you want to).